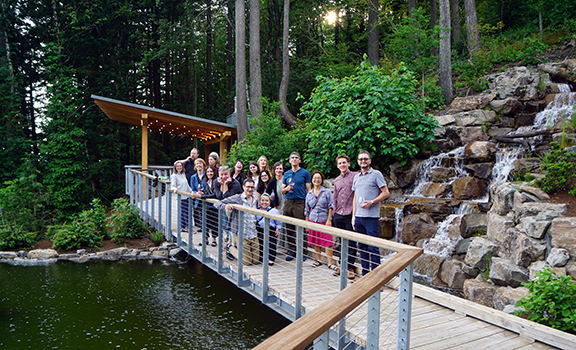 We kicked off summer with a Mayer/Reed project tour and wine tasting to experience our work firsthand. Perched high in Portland's West Hills, Amaterra Winery has become a destination for wine, fine dining and special events since opening in 2022. We value visiting our built work to both celebrate its completion and learn through observation. We took note of how construction details, materials and planting selections perform in real life.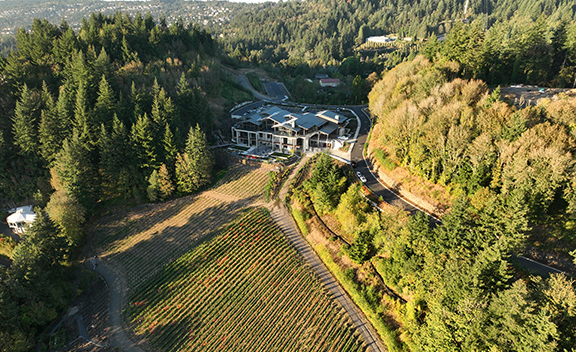 Beginning in the fall of 2017, Mayer/Reed's landscape architects worked with the client team, Waterleaf Architects through many iterations to design a unique urban winery – an ideal combination of working winery and hospitality venue. On the day of our visit, we enjoyed a tour from winemaker Matt Vuylsteke where we witnessed the success of the design, from the bay where grapes enter the building to the cascading waterfall that's a perfect backdrop for wine-sipping selfies.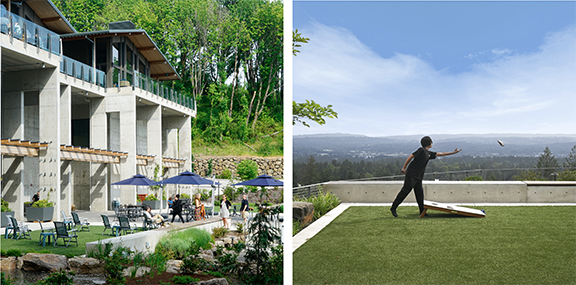 We found the terrace lawn to be a popular place to enjoy Amaterra's bounty on a late afternoon. Overlooking new vineyards with expansive views beyond, the 7,000 sf terrace provides an indoor/outdoor guest experience, with space for food and drink service, live music and lawn games. On other days, it's a prized wedding venue.
As the sun went down behind the trees, like others before us, our team marked the occasion with a group shot at the water feature we worked on with Hughes Water Gardens. We can't wait to return!