A new experience is taking shape in Oregon's wine country. Nestled atop the Dundee Hills, Domaine Serene has begun construction on a new hospitality clubhouse that will transform this long-established winery. The Clubhouse at Domaine Serene will provide guests with a world-class winery experience. As the site planners and landscape architects, we are honored to assist owners Ken and Grace Evenstad in creating their legacy project.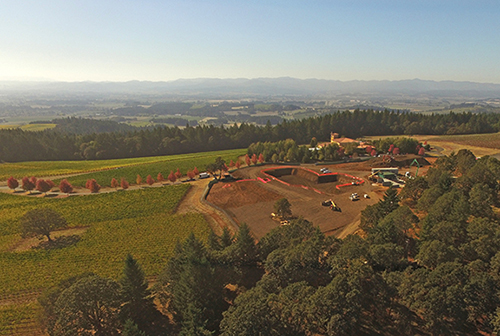 We are working closely with Waterleaf Architecture and Schommer & Sons Construction to position the new facilities within this dramatic landscape. Our design of the arrival sequence will create a sense of anticipation that culminates in a welcoming entry courtyard and a signature allee of Italian cypress trees. Terraces for wine tasting will wrap the clubhouse, offering spectacular panoramic views of the vineyards, the Dundee Hills, and the Cascade Mountains beyond.
Domaine Serene's owners greatly value the property's native white oak savanna and the habitat that it provides. The expansion affords an opportunity to preserve and restore a large tract of oaks, which, combined with other sustainable elements we've designed, heightens the site's ecological sustainability. This is an important model for the region's winemaking story.
The clubhouse will be complete in the summer of 2017. Until then, I am counting the days until I can sit on the terrace, take in the views, and enjoy a delicious glass of Evenstad Reserve pinot noir.