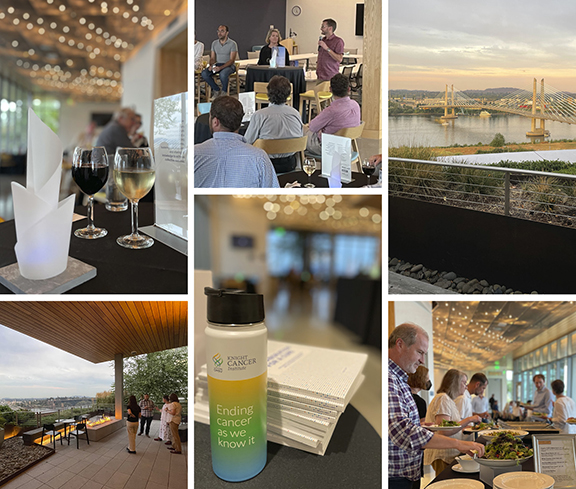 On August 18th Mayer/Reed and SRG Partnership (SRG) hosted an Architecture Foundation of Oregon (AFO) Dine & Design event on the Mayer/Reed-designed outdoor terrace of the LEED platinum, state-of-the-art OHSU Knight Cancer Research Building. The AFO series brings people together to experience exceptional designed spaces and raises money to support AFO's programs, including Architects in Schools.
We had a wonderful evening, gathering for happy hour and dinner in the 6th floor "intellectual lounge" and its connecting terrace with stunning views of the east from the South Waterfront. A panel discussion hosted by Laurie Canup (SRG) and Mayer/Reed Principal Jeramie Shane included OHSU leadership and researchers who shared how the building design supports their work to cure cancer.
The key to the building's success is space organization for efficient workflows, but we also heard that there is magic in the social "eddies" where interactions are less linear. "It's the coffee" and "lunch with a view" that make it happen. Casual yet important interactions on the rooftop terrace and in the kitchen during a coffee break or meal are the moments of cross-pollination which spark meaningful collaboration. This is a universal idea so many of us can relate to. As we all find our way back into our respective offices, these moments of spontaneous connection can bring intangible value. It is a good reminder of the importance of our work to support well-being and serve as a catalyst for things far beyond our imagination.
We are grateful for OHSU Knight Cancer Institute's commitment to cure cancer and for their generosity to share their time and observations. Taking the time to learn from those who inhabit our projects is a gift to the future of design.