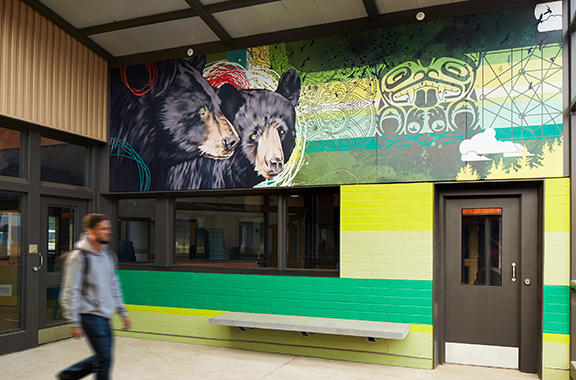 We're honored to receive a Merit Award in Placemaking and Identity from SEGD, the Society for Experiential Graphic Design, for experiential graphic design installations at the MacLaren Youth Correctional Facility in Woodburn, Oregon. MacLaren's new housing units feature colorful graphics designed by Mayer/Reed and artist Blaine Fontana, in collaboration with DLR Group and the MacLaren youth.
The design team explored authentic story telling with the incarcerated youth who shared images, poems, personal illustrations and stories that represent themes of integrity and transformation. The final graphics – rich with color, symbols, patterns and animal representations – are culturally meaningful for a population over-represented with minority identities.
These courtyard graphics humanize the living environment while supporting the Oregon Youth Authority's "positive human development" approach. The awards jury appreciated how the work "opens the door for how we should be designing environments to create positive change, especially for those that need our help the most."
Out of 340 worldwide submissions, 30 were honored with a 2020 SEGD Global Design Award for excellence in experiential graphic design.