We marvel at the world as seen through the eyes of a child, one that is rich with imagination, explorations of nature and attraction to color. As the landscape architects on a collaborative design team for the Elks Children's Eye Clinic in Portland, Mayer/Reed considered environments for children whose sight may be limited. We asked, how could tactile qualities and perceptions of color help enrich their experience? How could we help to put children and families at ease as they approach the eye clinic for treatment? Within a small garden, could we offer a sense of calm and artistic expression through color, tactile surfaces and natural elements?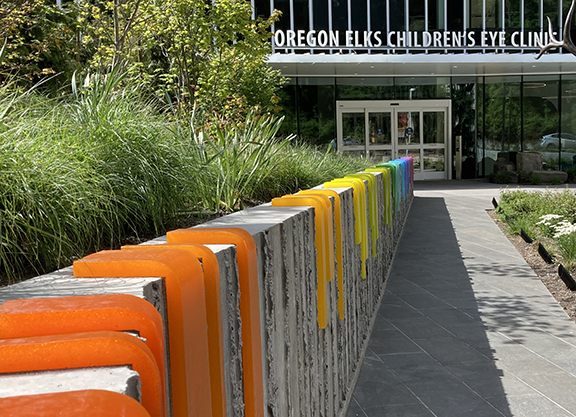 We posed these questions to medical specialists and administrators as we studied site design opportunities for the new clinic located directly across from the renowned Casey Eye Institute on the Oregon Health & Science University (OHSU) campus. This world-class facility for the treatment of eye diseases is noted for its medical excellence as well as making kids feel safe and relaxed. Recently completed in spring of 2021, the Elks Children's Eye Clinic welcomes both children and adult patients. We hope that the building's entry and courtyard offer unique and delightful encounters for everyone.
During the design process, we learned that people with sight as well as those with sight impairments have great variations in their interpretations of color. We became intrigued with NBBJ Architects' proposal to use colorful dichroic glass on the skyway connecting the clinic and institute. With this inspiration, we explored how to bring this rainbow of color down to a place in the landscape where kids could engage with it.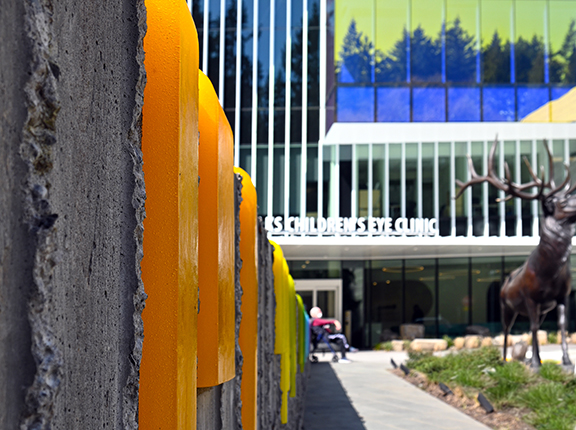 Leading to the building entry, we incorporated thick sheets of smooth, poly-chrome slumped art glass (fabricated by Portland's Bullseye Glass Company) into a crisp, board-formed concrete retaining wall. The two materials reveal a sharp visual and textural contrast. The vibrant colors rendered in glass punctuate the wall, remaining durable and effective, no matter the time of day, season or weather.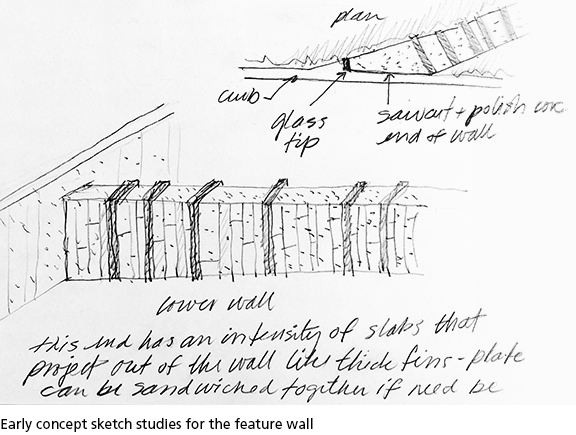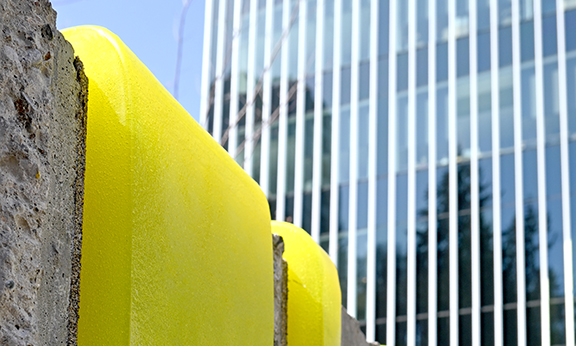 A verdant, narrow courtyard between the new clinic and existing parking garage provides an intimate place to relax or enjoy a snack. This subdued, shady environment is favorable for clinic patients, especially if their eyes have been dilated during exams or treatment.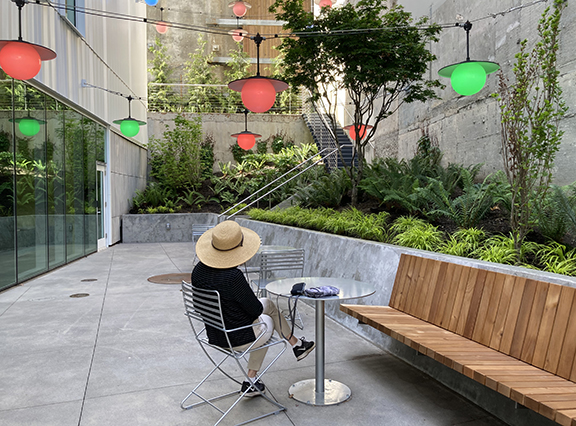 The final phase of the clinic's terraced sensory garden will be completed after construction of the adjacent OHSU hospital expansion. Until then, the colorful art glass wall and richly vegetated courtyard provide unexpected visual and tactile treats for everyone entering the Elks Children's Eye Clinic.