The opening of the newly renovated Leodis V. McDaniel High School on SE 82nd Avenue will be officially celebrated on Saturday, September 18. Originally built in 1958 and named for President James Madison, the school has been recently re-named for a highly respected, celebrated former school principal and community leader of Portland. Leodis McDaniel, who was Black, "…was well-known for his kind demeanor, contagious laugh, absolute integrity, and his instinctual ability to deeply connect with all people. McDaniel was wildly popular with students and staff while earning numerous awards and accolades from the many community organizations to which he contributed," according to Portland Public Schools.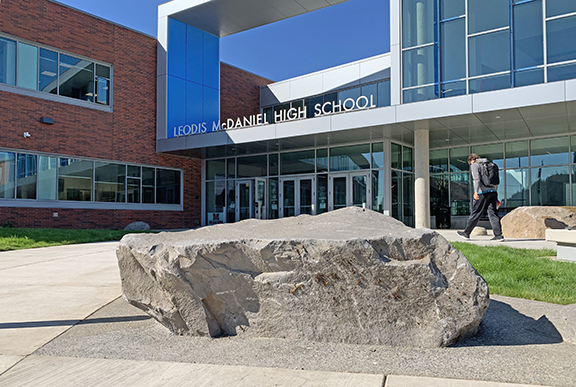 McDaniel High School is one of the most diverse in the state, drawing about 60% of its students from Hispanic, Black, Asian, Pacific Islander, Native American and mixed-race communities. Over 30 languages are spoken in the hallways here. It celebrates the many foods and cooking traditions of the students and their families with a unique Sustainable Agriculture curriculum that includes a large, hands-on teaching garden and greenhouse.
The 20-acre school site is perched aloft a 60 ft. high hillside with impressive views of Mt. Hood. Straddling the Alameda Ridge, the site is part of a geologic feature that runs for several miles through northeast Portland. Mayer/Reed's curvilinear landscape design capitalizes on this unique history, referencing the fluid patterns of the ancient Missoula Floods that shaped this exact location 13-15 million years ago. Boulders weighing between 12 and 22 tons popped up everywhere in building excavations. These geologic tributes were muscled and craned into place at building entries, courtyards and landscape as a noteworthy signature for the school. A reminder of what is underfoot, they provide fun, informal "perches" for students to populate.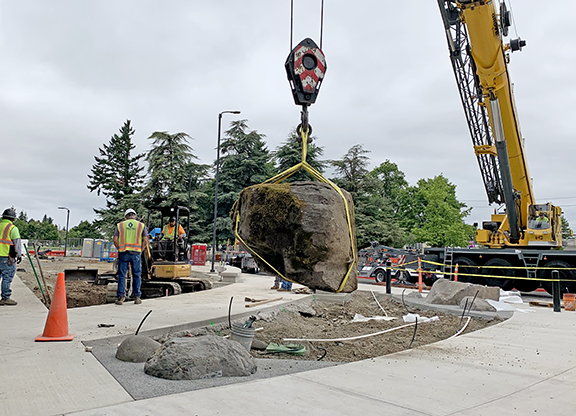 The new landscape includes over 200 new trees of 35 different species that will become a teaching arboretum for science classes.  Thousands of new shrubs on the grounds are drought resistant; a significant  number are native species that support local urban wildlife and express the school's Indigenous Club interests. In addition to six vegetated stormwater planters, a downspout outfall and runnel through the east interior courtyard showcase a dramatic splash of rainwater generated from the building roof.
Other site features include a childcare center play area, new synthetic turf athletic fields and a pedestrian plaza for a new gym, concessions and grandstand. Throughout the school you'll find a Mayer/Reed designed sign system as well as large graphics that infuse interior spaces with identity. The architecture firms for this 296,000 sf high school renovation are Opsis Architecture and DAO Architecture, and the general contractor is Fortis Construction.