Throughout our history, Mayer/Reed has worked on parks big and small, but none as small yet so significant as the recent redesign of Mill Ends Park in Portland, Oregon.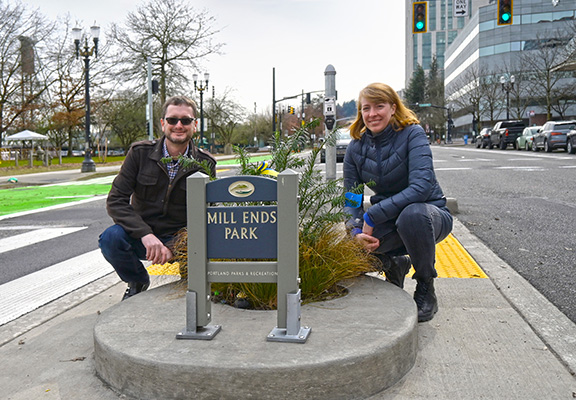 For being only 452.16 square inches, Mill Ends Park certainly has a large reputation. Since 1971 it has held the title of World's Smallest Park in the Guinness Book of World Records. The park's origins are in the midcentury as a twinkle in the eye of Dick Fagan, an Oregon Journal columnist, whose imagination was sparked by an empty utility pole hole in the middle of SW Naito Parkway (called Front Avenue at the time) at Taylor Street. Looking down from his office, Fagan dreamed up a mythology for the park having to do with a leprechaun named Patrick O'Toole. The park was an object of controversy in 1954 as Fagan battled City Commissioner Bean over the name of the park, which ultimately was called "Mill Ends" after Fagan's column in the Journal. On St. Patricks' Day 1976, Mill Ends was officially dedicated as a city park, which makes it two years older than its 36-acre neighbor, Tom McCall Waterfront Park.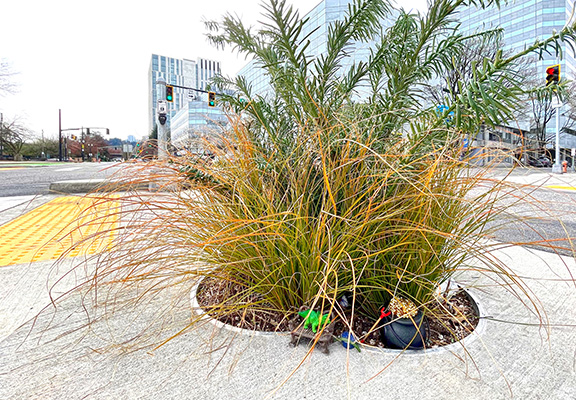 Portlanders show this quirky little park a lot of love, frequently decorating it and adding small figurines. It has been the site of protests, weddings, snail races and ceremonial rose plantings. It has hosted every imaginable form of vegetation, which is carefully hand-watered by the staff at Portland Parks and Recreation. With the rise of the selfie era, so too has Mill Ends Park become extensively photographed and shared on social media.
Over the years, Mill Ends has been rebuilt several times as part of upgrades to Naito Parkway. In 2006, the park was briefly relocated to a flowerpot at the World Trade Center while Naito was repaved. More recently, Portland Bureau of Transportation's bicycle and pedestrian improvements on Naito (known as Better Naito Forever) has again required a rebuild of Mill Ends Park.

Tasked with the redesign, Mayer/Reed, drafted multiple design iterations before selecting a quatrefoil shaped steel form cast in concrete. The new park is located a smidge northwest of its previous location but is not a hair larger than its record-setting size.