Each fall we look forward to celebrating design with the Oregon landscape architecture community at the annual Oregon ASLA Awards Soiree. This year we are proud to share that two Mayer/Reed projects and one Mayer/Reed landscape architect took home honors.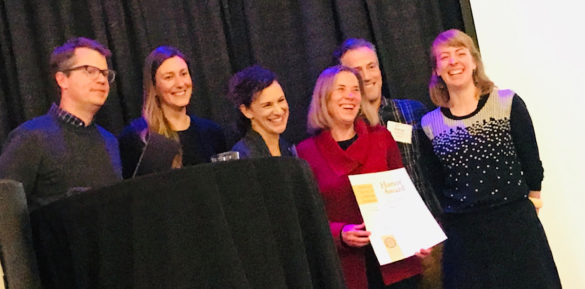 Representatives from Mayer/Reed and the City of Portland accepted an honor award in analysis & planning for the Green Loop, a concept and planning framework for a continuous pedestrian and bicycle trail encircling Portland's inner city utilizing existing street rights-of-way as its network.
A second honor award, this one in the category of community service, went to our pro-bono Portland Winter Light Festival installation – Kinetic DeLight. Crafted of 700 human-powered LED skateboard wheels on a custom steel frame, the exhibit invited visitors to spin streaks of light, offering both touch and visual sensations. Kinetic DeLight will be making a re-appearance at the free 2020 Portland Winter Light Festival in February.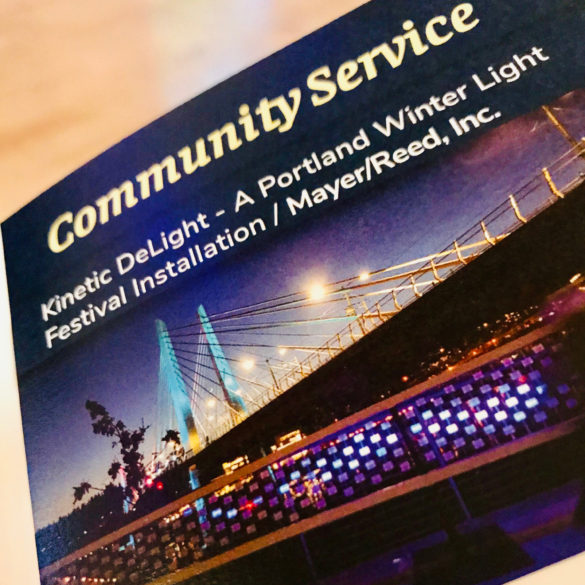 In addition, Mayer/Reed landscape architect, Shannon Simms, received the President's Chapter Service Award in recognition of her outstanding volunteer service on behalf of the chapter and the profession.