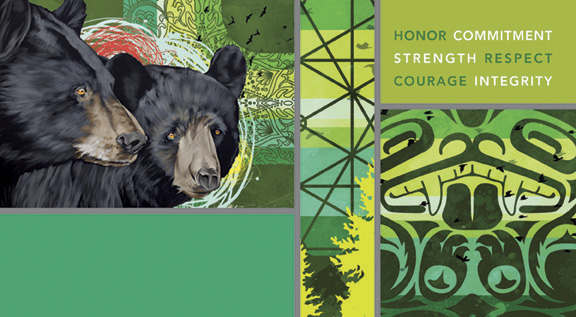 It is not always clear when we start a project, how our work will unfold. In designing the MacLaren Youth Correctional Facility East Housing, DLR Group brought us on to study how environmental graphics could support their design for positive human development. We understood the importance of bringing inspiration to a traditionally institutional and harsh facility.
For over a year, we collaborated with mural artist Blaine Fontana and led the process with incarcerated youth and Oregon Youth Authority (OYA) staff to find shared values. We heard what the young men are learning and their hopes for others who find themselves there. They contributed poems, stories, images and sketches as we all navigated sensitive topics such as cultural inclusiveness, respect and safety. I was impressed by their thoughtfulness and ability to express their ideas. Working with the youth and the dedicated OYA staff was an eye-opening experience unlike typical design undertakings.
Opening day was particularly heartwarming. The youth gave tours of the new facility, exuding pride as they told the mural stories. We hope that telling the mural story will continue to be a part of each cottage community.
Save