Mayer/Reed has named experiential graphic designers Mike Hawks and Bryan Stevens Associate and hired senior designers Emily Morishita and Robbie Maki.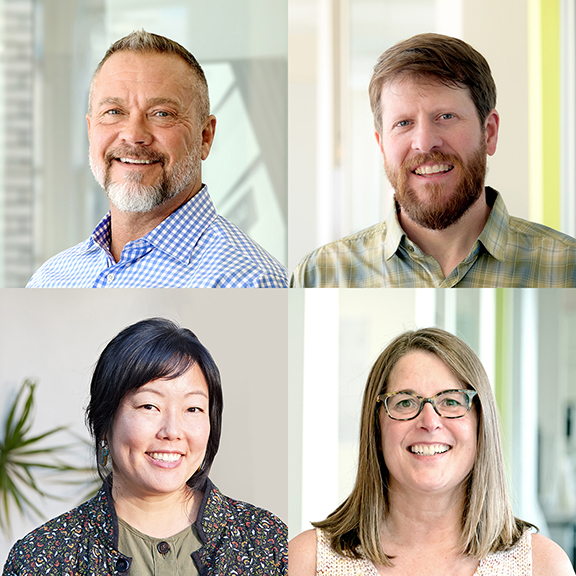 Mike Hawks, SEGD specializes in multi-family housing identity, wayfinding and branded interiors. Recent projects include Prometheus residential developments; Saltwood, Raleigh Slabtown and The Carson. His public work includes significant community resources, the Oregon Convention Center renovation and the Multnomah County Central Courthouse (all in Portland, OR). In 2012 he co-founded the SEGD Portland Chapter and currently co-organizes Mayer/Reed's studio education gatherings and provides mentorship to emerging professionals. Mike earned a BFA in interior design from Marylhurst University.
Bryan Stevens, SEGD is currently managing the signage and wayfinding design for PDX Next throughout the Portland International Airport Main Terminal, Concourse B, Rental Car Facility and Transportation Center (Portland, OR). He leads complex public projects with a collaborative approach to facilitate consensus building and consistent decision making. In addition, Bryan is an outdoor enthusiast and thrilled that his past work includes inviting others to do the same through his work on the Travel Oregon Welcome Center (Ashland, OR) and the Travel Oregon office (Portland, OR). Bryan holds a BFA in visual design from the University of Oregon.
Emily Morishita, SEGD is the first Mayer/Reed employee to be based full-time in Seattle, WA. She joined Mayer/Reed as a senior experiential graphic designer and project manager and brings 15 years of experience with a focus on transportation related projects. Emily was previously with Hunt Design in Pasadena, CA. Her current work with Mayer/Reed includes SeaTac Building C-1 and the Behavioral Health Teaching Facility at the University of Washington (both in Seattle, WA). She earned an MFA in graphic design from the California Institute of the Arts.
Robbie Maki, SEGD joined Mayer/Reed as a senior project manager and experiential graphic designer. With a background in interpretive exhibits and wayside signage, she is skilled in communicating complex information to diverse audiences through accessible, educational design. Robbie is currently managing Mayer/Reed's work for Fairbanks Hall at Oregon State University (Corvallis, OR) and Jesuit High School (Beaverton, OR). Robbie holds a BFA in visual design from the University of Oregon.