7 women. 7 minutes. 21 slides. On March 11, AIA ForWARD hosted Fast Forward, a night of Pecha Kucha style presentations on the theme, "Women Acting Sustainably." My presentation, "Sustaining the Human Race Through Physical Activity" focused on inspiring people to see themselves as resources worthy of investment—active bodies lead to productive adults that, in turn, can fuel our economy and protect our environment.
I challenged the Portland design community attendees to consider ways to fold physical activity into the way we conduct business and in the spaces we design. I discussed our recent projects, the Outdoor Adventure at the Portland Children's Museum, a fitness circuit course, and the Darlene Hooley Pedestrian Bridge as examples of spaces designed for movement. The Mayer/Reed designers behind these projects are committed to living physically active lives. We encouraged the audience to have a little fun, stand up and push the boundaries of social norms by participating in a set of exercises during the presentation.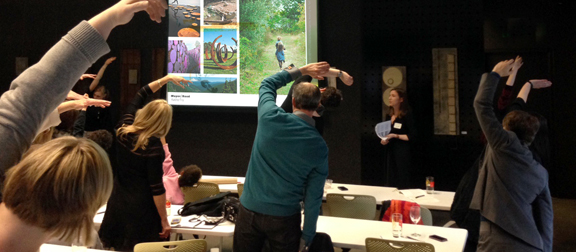 At the close of all 7 presentations, I was intrigued that many of the speakers focused on the social side of sustainability rather than on green building techniques. It made me proud to belong to a community in which environmentally sustainable design is already considered best practice and we can push ourselves to consider even more.