Construction has begun on the transformative Hollywood Transit Center and hollywoodHUB in Northeast Portland. Government officials and design team members marked the occasion with speeches and a groundbreaking ceremony on October 26th.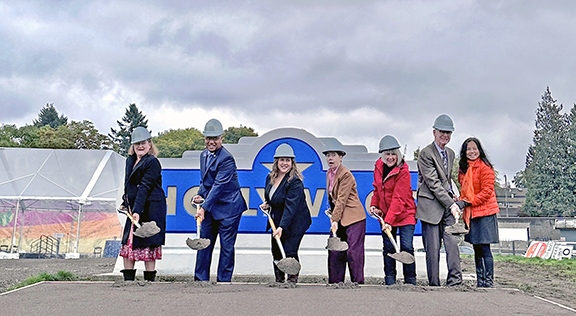 The two projects will redevelop the existing transit center into a public paseo and affordable housing. As a collaborator on both teams, Mayer/Reed provided the urban design, landscape architecture and experiential graphic design that will unify the site as a cohesive, active and safe community space.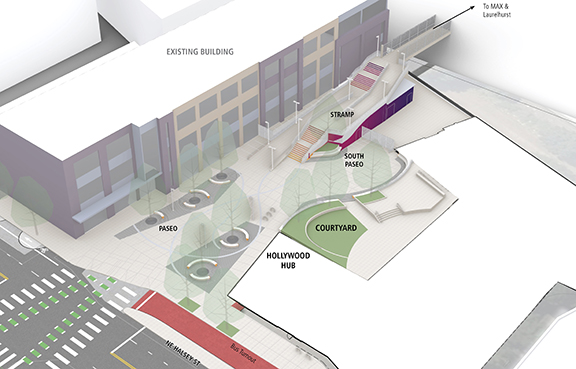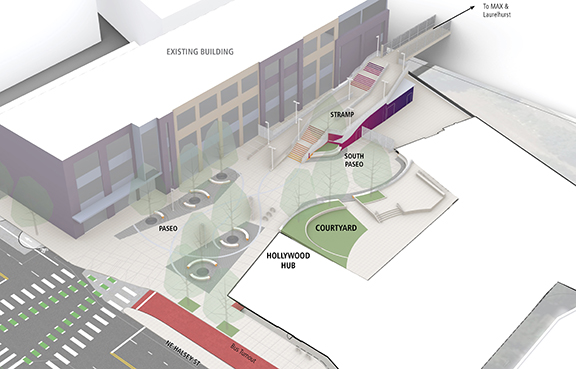 Mayer/Reed designed a colorful paseo and stair/ramp structure – or "stramp" – as part of the transit center project led by David Evans & Associates. The paseo's vibrant design draws inspiration from the site's temporary mural created by Sarah Farahat and includes a tribute space for reflection on the tragic events that occurred on a MAX train in May 2017. More than a pedestrian and bicycle pathway, the paseo will also offer inviting spaces to hang out or hold small events.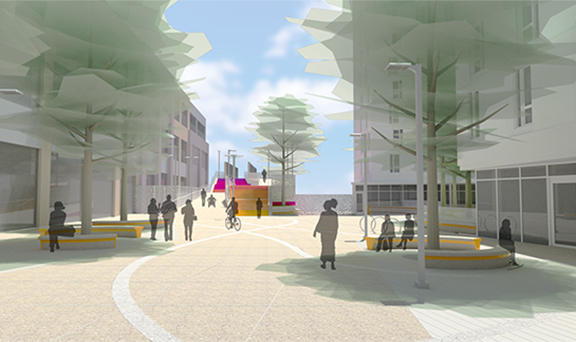 An adjacent transit-oriented housing development designed simultaneously, will knit in with the transit center and paseo. Led by Holst Architects and developer BRIDGE Housing, it will provide over 200 affordable housing units, retail space and a courtyard on the TriMet-owned property.
Construction contractors are Raimore Construction (transit center) and O'Neill-Walsh Community Builders (housing). Completion of both projects is slated for 2026.