According to Mayer/Reed's extraordinary senior landscape designer and project manager, Teresa Chenney, FASLA, "It's time for me to wander over to another trail. I am leaving my usual professional life behind and looking towards new adventures and endeavors in 2023." For Teresa, this means endless artistic pursuits, time with friends, family and community and activities that make the world a better place.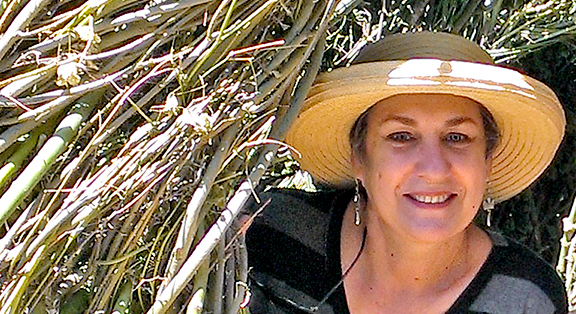 Teresa first came to Portland in 1995 from New York City where she had worked for a well-known landscape architecture firm, Quennell Rothschild and Associates. Mayer/Reed seized the opportunity the following year to hire her to design and oversee the firm's award-winning landscape architecture work on the Nike World Headquarters North Campus Expansion. Spanning a 15-year period, she ensured that design solutions at all scales were sophisticated, creative and well-informed by the architecture, natural resources and site context. The Nike projects resulted in a world-class campus that reflected the aesthetic, ecological and innovation aspirations of the company and its workforce.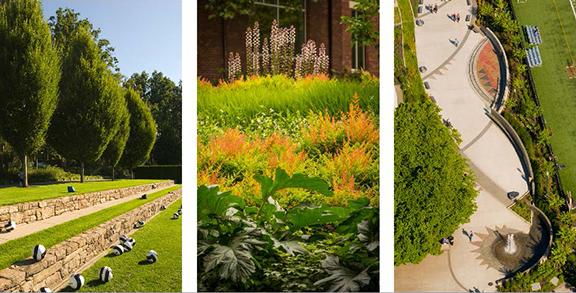 Beyond Nike, Teresa's numerous Pacific Northwest projects feature outstanding public spaces, sustainable practices and urban design. Her notable body of work during her tenure at Mayer/Reed includes: The Rain Garden at the Oregon Convention Center, Director Park (in collaboration with ZGF Architects and OLIN), the Walk of the Heroines at Portland State University, Providence Portland Medical Center Expansion, the Oregon Museum of Science and Industry (OMSI) Master Plan, the Mark Building at the Portland Art Museum, several projects at Portland International Airport and the south end of the Vera Katz Eastbank Esplanade.
In 2017, Teresa became a Fellow of the American Society of Landscape Architects in the category of Completed Works. Quoting from her nomination, "…her professionalism is characterized by maturity, patience, humor and active engagement with associated design and planning professionals, along with a deep understanding of the needs of communities and clients…Examples of her work in the Portland metropolitan area all derive their planning and design heart from Teresa's deeply held personal values and design principles…She synthesizes art and science, seamlessly weaving the social, the aesthetic and the practical." Teresa inspires her colleagues and clients alike as she advances social and environmental good. She remains a strong mentor for younger design professionals and leads by example by volunteering for non-profit organizations.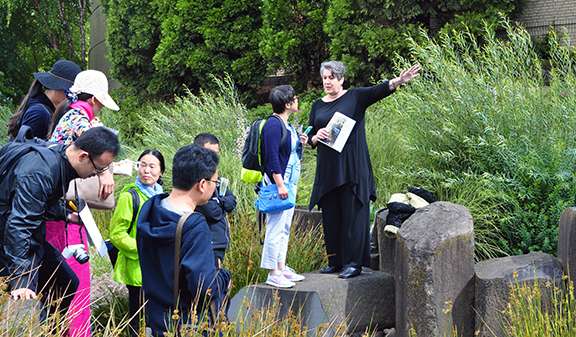 We at Mayer/Reed greatly value and admire Teresa's enduring passion for her chosen path of landscape architecture; her contributions to the firm are lasting and deep. "It is a bittersweet departure for me, and I sincerely thank you all for your genuine thoughtfulness, collaboration and teachings you have so generously given to our important work…I will always treasure the many stories, visions and lessons that I've acquired along the way."
What can we say? Surely, we'll see you on many more trails ahead.
Mayer/Reed thanks you, Teresa!