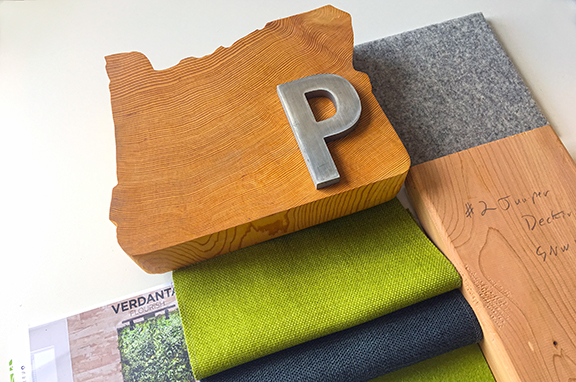 It used to be that selecting environmentally responsible materials meant using local and recycled content, sustainably harvested wood and low VOC paint. Today, the architecture and design community recognizes that we can do even more through our material choices to impact human health, climate, environment and society. Until recently, though, we didn't have the information we needed to avoid harmful materials.
This is changing.
Designers and manufacturers are now engaged in a movement to advance content disclosure of architectural building products so designers can understand the environmental and social impact of the materials they specify. With this knowledge, we hope to drive the development of healthier material and product options through increased demand.
Mayer/Reed is one of the 114 design firms that signed the (Portland initiated) Materials Transparency Pledge. We pledge to support the efforts of the Living Product 50 manufacturers to share the responsibility required to make materials transparency work. For those manufactures that have taken the lead by supplying HPDs, EPDs, Declare, Cradle to Cradle, Green Guard Certifications, thank you for your investment to supply this information. To complete the loop, as designers we pledge to:
Support Human Health by preferring products that support and foster life and seek to eliminate the use of hazardous substances.
Support Climate Health by preferring products that reduce carbon emissions and ultimately sequester more carbon than emitted.
Support Ecosystem Health by preferring products that support and regenerate healthy air, water, and biological cycles through thoughtful supply chain management and restorative company practices.
Support Social Health and Equity by preferring products from manufacturers who secure human rights in their operations and supply chains.
Support a Circular Economy by reusing buildings and materials; and by designing for material efficiency, long life and perpetual cycling.
We're in an exciting time for design, with opportunities to create places that push past the old benchmarks for sustainability. But a system change will only find success when individual designers, owners and manufacturers change their patterns. Will you join the movement?
To read the full pledge or join the signatories: www.pmtc-pdx.org/about.html