We're proud to announce two national design awards for the Willamette Falls Riverwalk; one from from the American Society of Landscape Architects (ASLA) and the other from The Waterfront Center.
The riverwalk received an Honor Award in Analysis & Planning at the recent national ASLA Awards event in Philadelphia, PA. The jury commented, "Here we see the combining of public access, habitat, historic and cultural interpretation, and economic development in a project that's very tangible in terms of its potential to being implemented."
The Waterfront Center celebrated the Willamette Falls Riverwalk Master Plan with the Top Honor for plans at an awards ceremony in Washington, DC this fall. Their Excellence on the Waterfront Awards program recognizes exceptional waterfront planning, design and development from around the world. The riverwalk concept also won local ASLA chapter design awards in New York this year and in Oregon in 2017.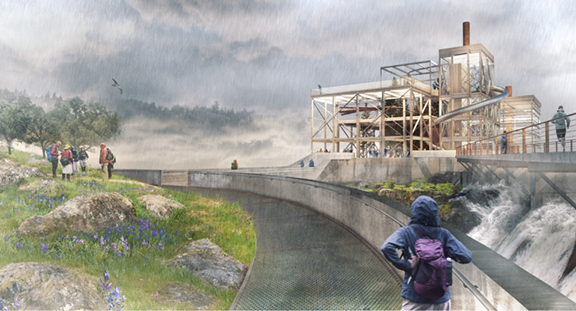 Snøhetta, Mayer/Reed and DIALOG'S 3.5 year-long effort on the riverwalk has culminated in a well-supported concept that has been embraced by the project partners and the community. The team's design for public spaces at the former waterfront mill site encompasses a network of promenades and lofted pathways that lace programmable gathering places, viewpoints and three-dimensional physical strata. The first phase of the riverwalk is expected to break ground in 2020.