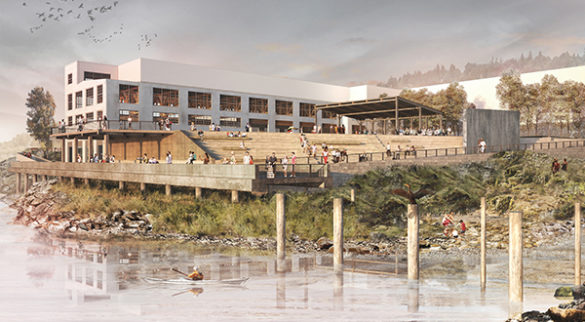 Years of planning, rounds of design, site explorations and valuable community conversations and public agency support have all shaped our vision for the Blue Heron site and The Willamette Falls Riverwalk in Oregon City. Plans and images of this along-awaited, legacy project were revealed this week at a media event on this intriguing 22-acre post-industrial riverfront site.
Thank you to everyone who joined members of the Design Collective – Snøhetta, Mayer/Reed and DIALOG – for the first public viewing of the concept on Saturday, June 3rd, at the Willamette Falls Riverwalk Design Celebration. It was our pleasure to discuss the design of this complex site, assemble a time capsule and raise a glass to toast the success of the project!
The team is beginning work on detailed design and construction drawings for the first phase of the riverwalk, with ground breaking scheduled for next summer. Check out willamettefallslegacy.org for the latest project news and progress.
Save
Save
Save
Save
Save