Just in time for summer, "Better Naito Forever" officially opened on May 6 with a ribbon cutting and inaugural bike ride. This protected space for people walking and biking along SW Naito Parkway and Tom McCall Waterfront Park is now a permanent part of downtown Portland's multi-modal infrastructure.
Linked with a similar project south of the Hawthorne Bridge which provides off street bike and pedestrian paths, the city has gained dedicated space for walking and rolling along 22 continuous blocks.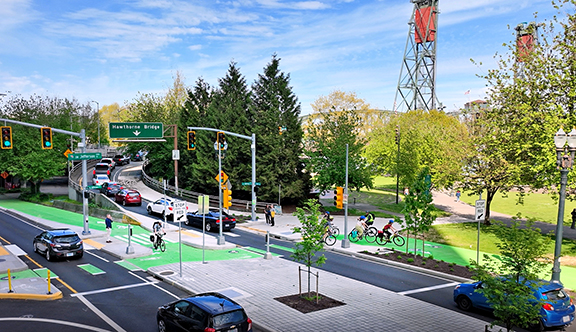 Mayer/Reed landscape architects and urban designers collaborated with David Evans & Associates (DEA) engineers on both segments, working with Portland Bureau of Transportation and Portland Parks & Recreation to establish human-scaled spaces that blend streetscape with park. "It was crucial to maintain a parklike edge, protect trees and create clear and welcoming park entrances," notes Mayer/Reed project manager, Shannon Simms.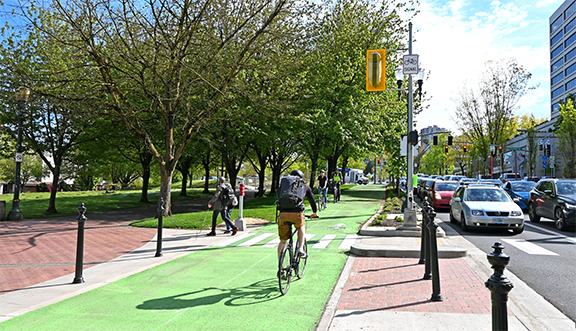 What began in 2015 as a temporary, volunteer-led pilot project to accommodate the influx of visitors to Waterfront Park during the summer festival season, "Better Naito" had grown to see wide support, eventually being designed, engineered and constructed. Now, in addition to providing space for daily recreation and bicycle commuting, the two-way cycle track and separate pedestrian sidewalk will offer inviting access for festival goers when outdoor events once again enliven our waterfront.