TriMet's first ever transit-oriented development (TOD) recently received an enthusiastic green light from the Portland Design Commission. Along with the pedestrian access way which received land use approval earlier this year, the two projects will transform the existing Hollywood District transit center into affordable housing and a public paseo.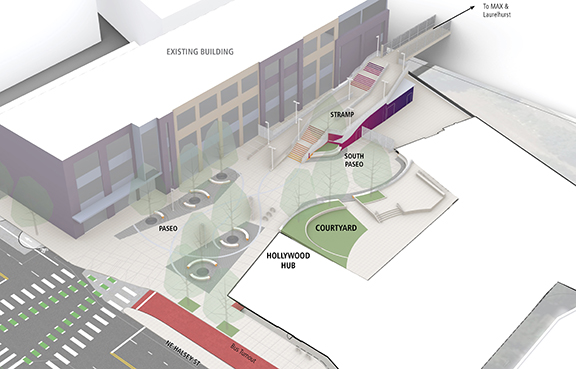 The complicated site serves the needs of many, and coordination between the two projects proved key. As a collaborator on both teams, Mayer/Reed provided urban design, landscape architecture and experiential graphic design that unifies the site as a cohesive, active and safe community space.
As part of the infrastructure project led by David Evans & Associates, Mayer/Reed designed a paseo and stair/ramp structure (dubbed the "stramp") to provide an important pedestrian and bicycle connection between NE Halsey and the pedestrian bridge to the light rail station and neighborhoods across I-84. Mayer/Reed associate principal Shannon Simms describes the paseo as more than a pathway. "It offers fluid travel through the site with 'eddy spaces' to the sides that invite people to linger in the plaza."
The vibrant design is inspired by the outpouring of community support following tragic events that occurred on a MAX train in May 2017 and a subsequent mural titled "We Choose Love" created by artist Sarah Farahat. While the mural was intended to be temporary until the construction of this project; the design teams and TriMet collaborated with Farahat to carry forward the messages of healing, remembrance, unity, love and safety through flowing forms and color.
This infrastructure project carves out space for the TOD project, led by Holst Architects and developer BRIDGE Housing, which will provide over 200 affordable housing units, retail space and a courtyard on the TriMet-owned property. Curved seatwalls delineate the residents' courtyard from the public paseo.
The Portland Design Commission lauded the design. "It is a fantastic project," noted Commissioner Brian McCarter. "Shout out to the architect, the landscape architect who worked on both pieces of the property and to TriMet for making this happen."
The two project teams will now finalize their designs, with a groundbreaking set for January 2024 and opening expected June 2026.