Have you seen the new "bendy" green buses? It's FX2-Division, TriMet's new high-capacity bus route along Division Street connecting Southeast Portland and Gresham. With 60% more seats than a typical bus, boarding through 3 doors and dedicated lanes in some areas, it's sure to keep passengers moving.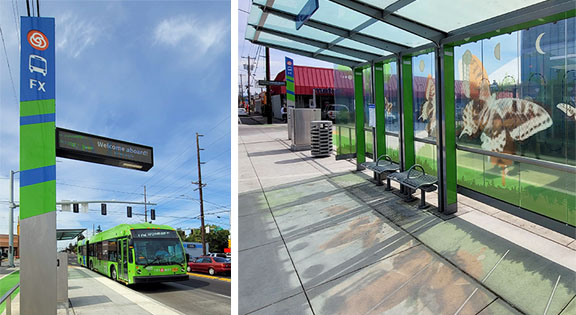 Over the weekend a fun-filled grand opening event kicked off the new line at three festival sites along the route: Gresham Farmer's Market, PCC Festival Marketplace and OMSI Station. The community came together to celebrate the completion which is a milestone for TriMet in their commitment to reducing carbon emissions, providing more equitable transportation and reducing traffic congestion.
Mayer/Reed's visual communications team is thrilled to have worked with TriMet and the project team to distinguish FX from other TriMet services with a custom-designed station pylon and a branded shelter and windscreen pattern. Take a ride to discover the new stations, including four stops with unique shelter graphics celebrating key neighborhoods. The stations are striking with their signature green, but safety and accessibility are top priorities. We designed the windscreen graphics to maintain clear views and worked with the project team and community stakeholders on platform markings and tactile elements to help cyclists and pedestrians of all abilities to safely navigate the new station layouts.
Congrats to TriMet and project team collaborators – WSP, PIVOT, DKS Associates, MZLA, Raimore Construction, and Landscape Forms. To plan your first ride, visit trimet.org.