The American Public Works Association (APWA) Oregon Chapter selected the "Better Naito Forever" project for their 2022 Project of the Year Award in the category of Transportation less than $5 Million. The APWA presented the award on October 20th at their Oregon Chapter Fall Conference in Pendleton.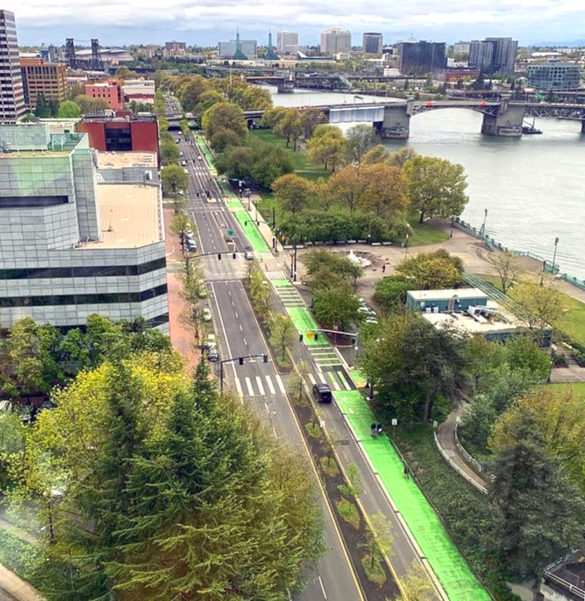 What started as "Better Naito" – a grassroots, temporary effort to improve Naito Parkway with more space for walking, rolling and riding to Portland's summer festivals ­– has grown into a signature multimodal corridor for downtown Portland. Known as "Better Naito Forever," the project features a permanent cycle track, complete sidewalk, safe and efficient traffic signals and incorporation of the mature Tom McCall Waterfront Park tree canopy. It provides people with an enjoyable active transportation route to move through downtown.
Mayer/Reed worked with David Evans & Associates to design this Portland Bureau of Transportation project. Our firm focused particularly on integration with the adjacent Tom McCall Waterfront Park, tree preservation and redesign of a tiny park with a big reputation, Mill Ends Park.
From the moment it opened, Better Naito has proven popular with cyclists and pedestrians as a way to move safely through downtown. We're honored that the APWA is also a fan of the project.