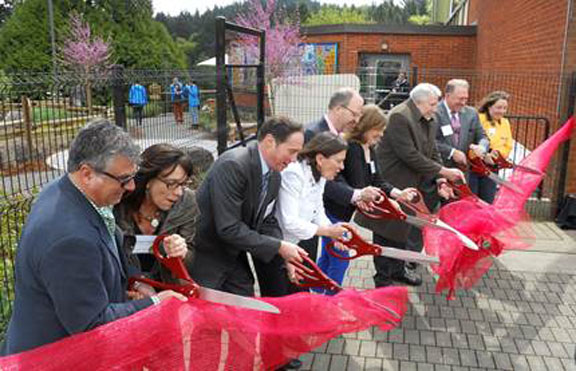 On Earth Day, April 22, the Portland Children's Museum swung their gates wide to the new Outdoor Adventure. The museum invites children of all ages to explore this education-based, accessible, imagination-fueled, nature play space designed by Mayer/Reed.
From the moment the ribbon was cut, I witnessed energetic, gleeful children skipping, jumping and climbing throughout the space. The most adventurous scaled part-way up "Zoom" an enormous, open-branching cedar; while the rest scrambled around boulders and throughout the sloping meadows. Happy feet romped down trails and leaped from stone to stone in the little creek. Small hands sailed wooden boats down to a bridge, fashioned habitats of loose natural materials, and excavated for treasure in the sand pit.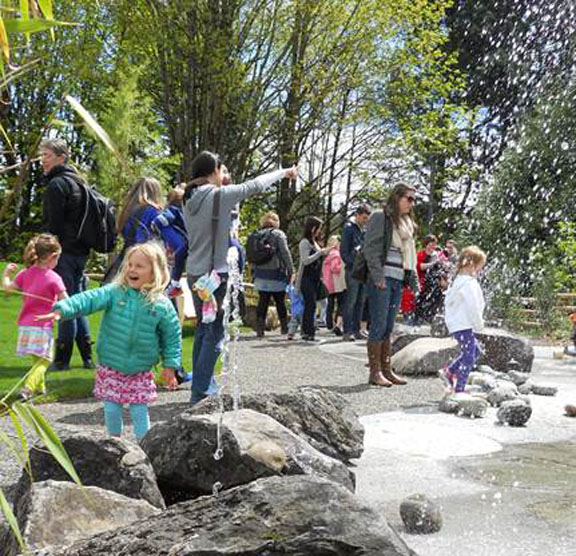 As families filled the stone-lined amphitheater, warm tones of the marimba band rose from the lower pavilion, creating an irresistible urge to dance. As a landscape designer it's always a joy to experience our completed projects in use, and this opportunity to see kids connect to nature is especially fulfilling.
Next up, throughout May, I get the chance to work with artist Patrick Dougherty on the new Stickworks installation at the lower Outdoor Adventure meadow. Stay tuned or come watch us bring to life a sculptural vision of the ultimate play environment!