Mayer/Reed welcomes landscape architect, Michael O'Brien and industrial designer, Fred Stiber.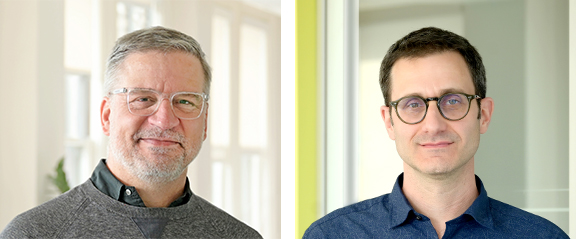 Senior landscape architect and project manager, Michael O'Brien, ASLA brings over 30 years of experience in the Portland area, focusing on public open space, mixed-use and municipal projects. His current work includes Errol Heights Park (Portland, OR), Cascades Academy Expansion (Bend, OR) and Multiple Pathways to Graduation (Portland, OR). Active in the design community and committed to the future of the region, Michael serves on the Metro Technical Advisory Committee and is a former chair of the Oregon State Landscape Architect Board.
Fred Stiber, SEGD joins the visual communications team with a focus on industrial design. With a background in exhibit design and wayfinding, he supports project development through thoughtful programming and structure design. His current work at Mayer/Reed includes signage and wayfinding for Nike World Headquarters (Beaverton, OR) and SeaTac Airport's C1 Building Expansion (Seattle, WA).