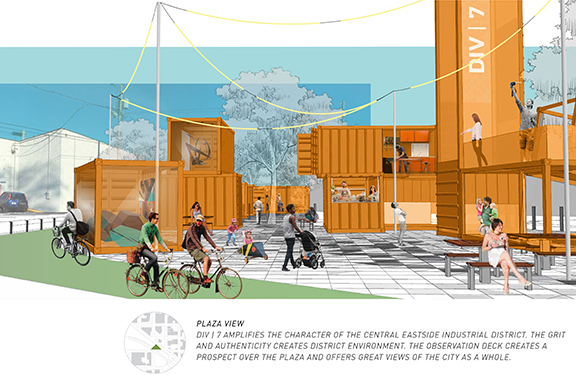 Our recent design proposal for the Loop PDX competition focused on activating an underutilized site in the Central Eastside Industrial District resulting in a top 10 submission for the Mayer/Reed & Toole Design Group team. Loop PDX asked teams to imagine the future of a proposed 6-mile pedestrian and bike "Green Loop" linking Portland's east and west sides. Our design submission "seeds the loop" with a pop-up intervention to stimulate public and private development interest in creating a north/south green corridor intersected by activity nodes.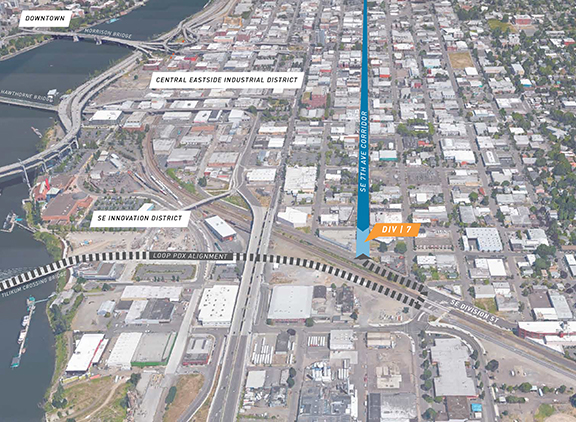 Entitled DIV|7, the concept creates a southern gateway and public plaza at SE 7th Ave and Division St. A typology of repurposed shipping containers provide various configurations for maker studios, galleries, food vendors and bike rental/repair, providing low cost incubator space for business start-ups that is in keeping with the district's character. Our submission also modifies one block of the 7th Avenue right-of-way to create landscaped, segregated pedestrian and bike lanes with a vacated triangular parcel converted to a plaza with views to the river.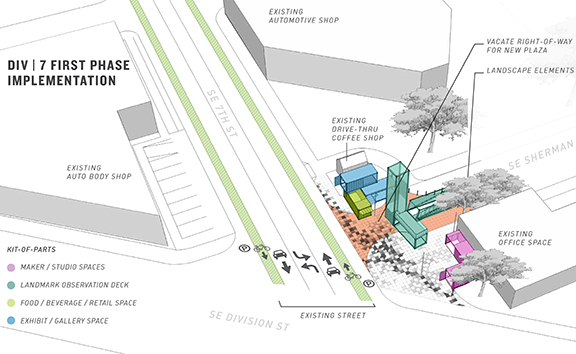 Our team found the competition valuable in stimulating our design thinking. Energized by the opportunity to shape a place we'd all use, we plan to continue the conversation that pushes design for Portland's livability. We look forward to the Green Loop becoming reality. Imagine the future!