This month Portland Public Schools, community leaders, current and former students, designers and contractors celebrated the groundbreaking for a major renovation of Portland's 105-year-old Benson Polytechnic High School.
The specialized school draws students from all over the city to focus on career technical education (CTE). Funded by a 2017 voter-approved bond, Benson Tech is undergoing a massive modernization led by Bassetti Architects with site design by Mayer/Reed. The design team is collaborating through an integrated project delivery process with Andersen Construction.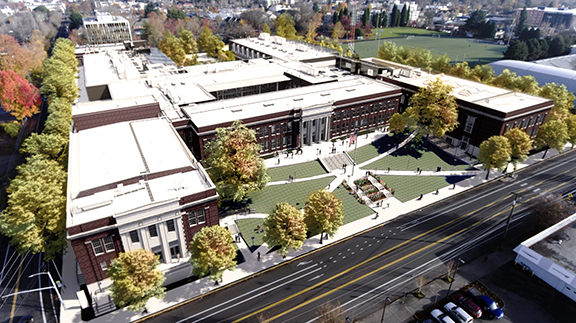 Mayer/Reed's site design respects the historic school's classic symmetry while incorporating accessibility and flexible-use spaces throughout. Connected to the student commons, an internal courtyard provides a plaza and stadium seating for dining, group studies and small events. On the building's east side, the CTE courtyard is a multi-faceted, programmable space that prioritizes student work areas and outdoor classrooms.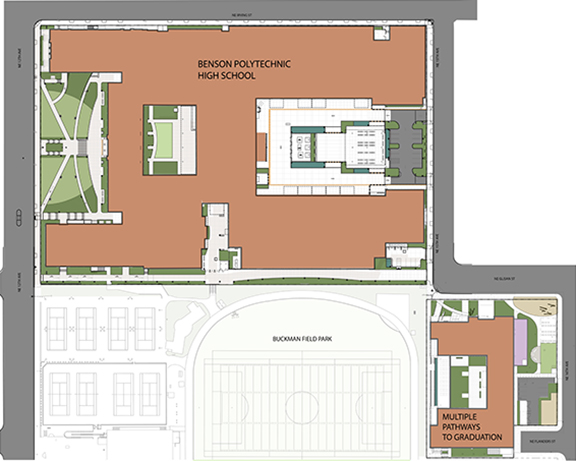 The three-year construction process also includes an adjacent new 85,000 SF multi-story building to house the school district's Multiple Pathways to Graduation (MPG) program. The school will be a distinct learning community designed to support various alternative education options. With a focus on providing a safe and secure facility influenced by trauma-informed best practices, the MPG building and site create positive social connections and special school identity through a connection to nature and biophilic design. Mayer/Reed's site elements include an outdoor classroom, science-oriented roof terrace, a daycare play area and connections to Buckman Field Park.
The Benson Polytechnic High School campus projects are expected to open to students and faculty in the fall of 2024.